【Vol.29】Foreign Residents of Tokyo Discuss the Allure of the Festivals of Japan and Their Own Countries
Their childhood memories of the festivals they experienced in their home countries
Jenna: The most traditional festivals in Quebec, Canada, where I grew up, are the maple syrup harvest festivals in March. Maple sap is collected and converted into syrup in a sugar shack. We celebrate by gathering friends and family to eat a rich meal, such as potatoes, bacon, crepes, eggs, and other dishes with maple syrup.
Guillaume: Wow, I'd never heard of that. France and Quebec are both French-speaking places, but these little differences in our traditions and cultures are fascinating.
Jenna: Aren't they? Another thing we do is put thickened hot syrup called la tire on snow, and when it hardens into a taffy, we roll it onto a wooden stick to eat. Then we all go for a stroll in the woods and celebrate the coming of the spring. Japan has a lot of large festivals, but the maple syrup harvest festivals are small, traditional affairs and you usually go on weekends with close friends and family.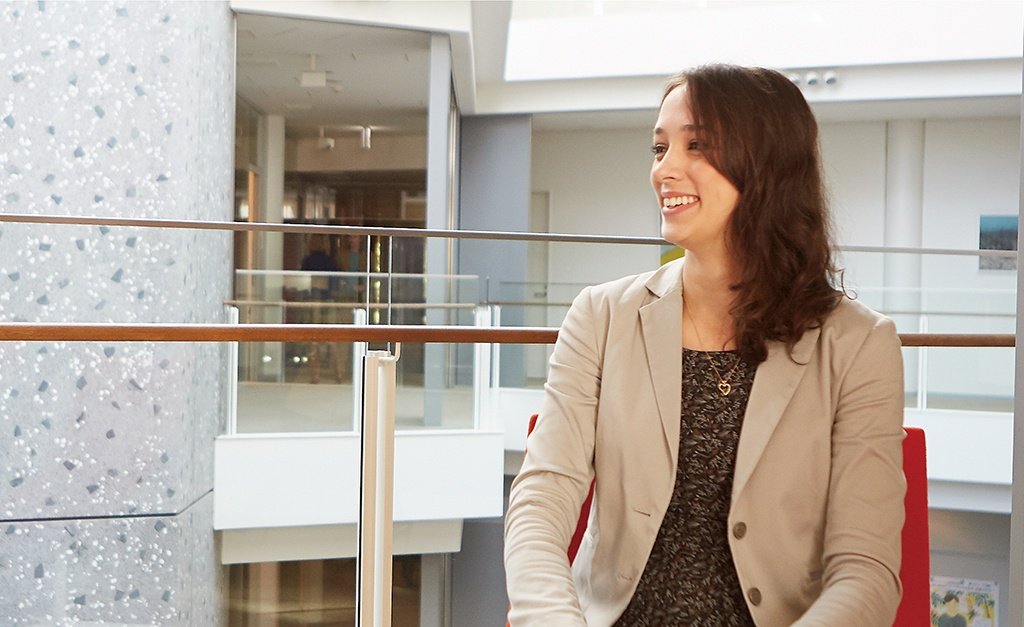 Guillaume: Preparations for some Japanese festivals take a whole year. France doesn't have many festivals that involve the kind of long-term preparation that Japanese festivals do.
Jenna: Now that you mention it, before Japanese festivals you'll sometimes see people practicing dances for weeks. What festivals do you have fond memories of?
Guillaume: Challans, a town in the Pays de la Loire region, has a festival called La Foire des 4 Jeudis, which means "the Four Thursdays Fair" because it is held over the course of four Thursdays in July and August. On festival days, the town takes on the ambiance of the early 20th century, people wear period costume, and musicians play music from the turn of the century.
Jenna: Did you ever perform?
Guillaume: No, but I participated in workshops that were held during the fair. We learned about the customs, traditions and lifestyles of our ancestors, and young people and their grandparents shared memories. It's a small town, so everyone comes together to dance and talk, and I think the festival really helps foster a tighter-knit community.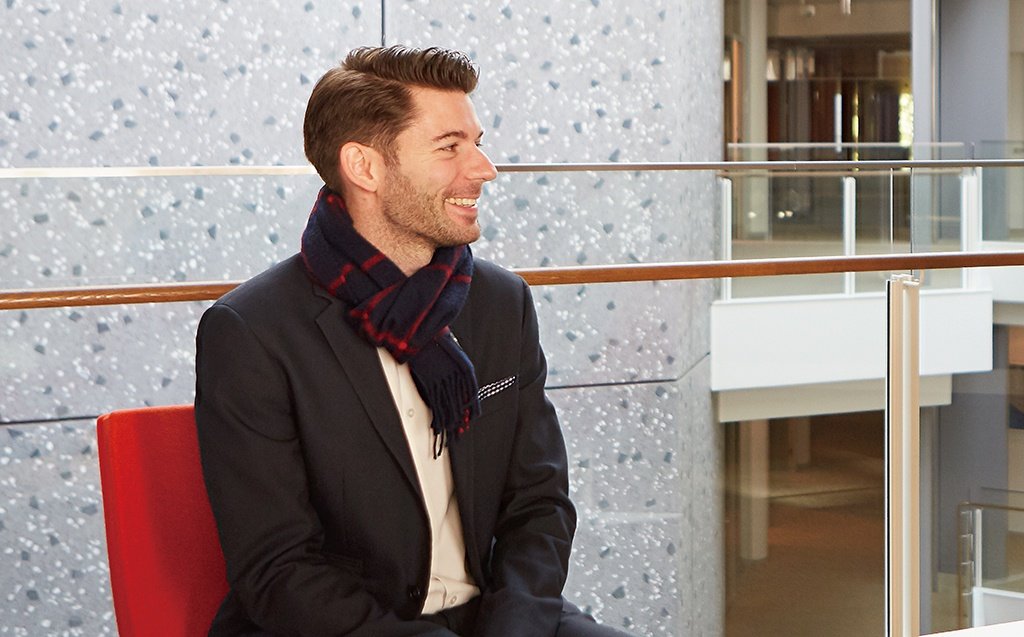 Japanese sensibilities are reflected in the opening speeches of festivals
Guillaume: What do you like about Tokyo's festivals?
Jenna: I was really impressed by the okonomiyaki and takoyaki I bought at a festival in Asakusa. For a long time in Montreal, selling food on the streets was prohibited.
Guillaume: Oh, is that so? In France, there are food stalls and food trucks, but the food stalls at Japanese festivals are more exciting.
Jenna: Another thing is that you don't see people in Japan eating while they walk, but festivals are special occasions, and everyone has fun snacking as they walk around. I love that atmosphere.
Guillaume: Right, it's great how festivals are free of taboos.
Jenna: Also, Japanese festivals start with speeches. You know, the mayor comes up to say a few words. I've seen people giving speeches at the Yosakoi Festival in Yoyogi Park, and it always creates this sense of excitement that the festival is really kicking off!
French and Canadian festival recommendations for Japanese people
Guillaume: Yes, it's very Japanese! Are there any festivals from back home that you would recommend to Japanese people?
Jenna: In the summer, there is the Montreal Jazz Festival. It's two weeks of concerts, some that charge admission and some that are free. The concerts go on day and night, covering all kinds of music, not just jazz. The streets are filled with music. On the weekends, in the old town port, there are fireworks shows.
Guillaume: In France, like in Japan, every region has its own unique festivals. For example, in the north there is the Braderie de Lille, a huge street market in Lille, and in the southwest there are the ferias (bullfighting events held in southwest France and Spain). Another famous one is Strasbourg's Marché de Noël Christmas market in eastern France. I would particularly recommend the Bastille Day fireworks you can watch from the Champ de Mars Park, located next to the Eiffel Tower. You have to go early to secure a space, but it's worth it.
Jenna: Now that you mention fireworks, I went to the Sumida River fireworks festival, and they had fireworks that looked like popular characters from anime and games. That felt really Japanese. If you truly want to experience the unique aspects of different countries, you really can't beat going to a festival.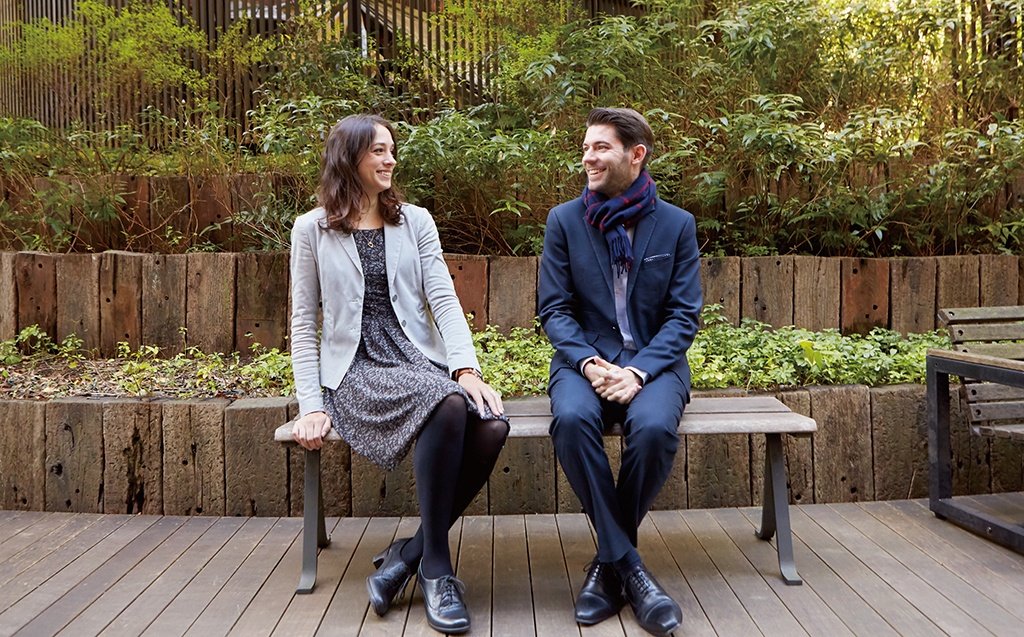 Guillaume Barraud
Guillaume Barraud is from the department of Vendée in western France. After studying abroad and interning in Japan, he returned to France. He now works at the Embassy of France in Japan through the Volontariat International en Administration (VIA), an internship program operated by overseas French government agencies.
Jenna Wilson
Jenna Wilson is from Montreal, Quebec, Canada. She grew up in Quebec, which is home to many Francophones. She came to Japan with the Japan Exchange and Teaching Program (JET Program). This program, operated by Japanese local government authorities, brings young foreigners to Japan to engage in activities such as foreign-language education. She currently works as a freelance writer and language teacher.
Photographs: Yukari Isa
Interpretation: Jun Takahashi / Tokyo Tekuteku
https://tokyo-tekuteku.com/
Photography location courtesy of: the Embassy of France in Japan
https://jp.ambafrance.org/-Japonais-
N.B. The information on this site is correct as of August 2019. It is subject to change without notice, so please confirm the details before coming to the festival.
(This is a "Tokyo Tokyo Old meets New" Project.)