【Vol.23】Writer Minori Kai Recommends Places to Visit Alongside a Trip to the Oedo Antique Market
 Tokyo is the perfect city for people who like to make little detours. Each neighborhood and each train and subway station has its own unique character. Virtually every nook of the city packed with shops and interesting spots, so whenever I go out, I don't just focus on my initial goal but also "side attractions," like taking a break and having a drink or doing a little shopping. 
 After browsing articles once used in everyday life and works of art at the Oedo Antique Market, I stopped by Tokyo Kaikan, a "hospitality complex" whose history stretches back almost 100 years. The first main building of Tokyo Kaikan was constructed in 1922, at a time when Western culture was spreading through Japan. With its restaurants, bars, banquet halls and cooking school, it was long loved as a world-class social venue that anyone could enjoy.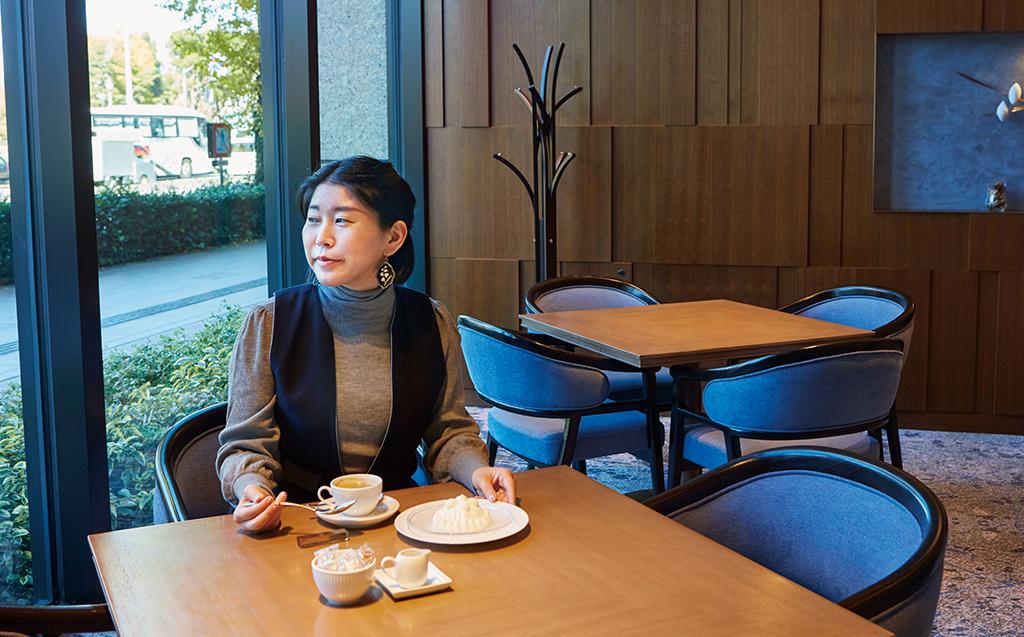 On the 1st floor of Tokyo Kaikan is Rossini Terrace. Here, you can treat yourself with a meal and dessert in spacious surroundings with a view of the Imperial Palace. Marron Chantilly is a Tokyo Kaikan specialty, a confection with the motif of a snow-covered mountain created by Tokyo Kaikan's first head pastry chef. The ingredients are simple—just dairy cream and puréed chestnut—but because of that very simplicity it requires the deft hand of a skilled patisserie. The concoction's refined, smooth sweetness fills you with such gustatory bliss that before you know it, the exhaustion of walking through the Oedo Antique Market is a distant memory. In addition to the basic dairy cream flavor, also seasonal varieties are also on offer, so you can partake of a different Marron Chantilly each time you visit.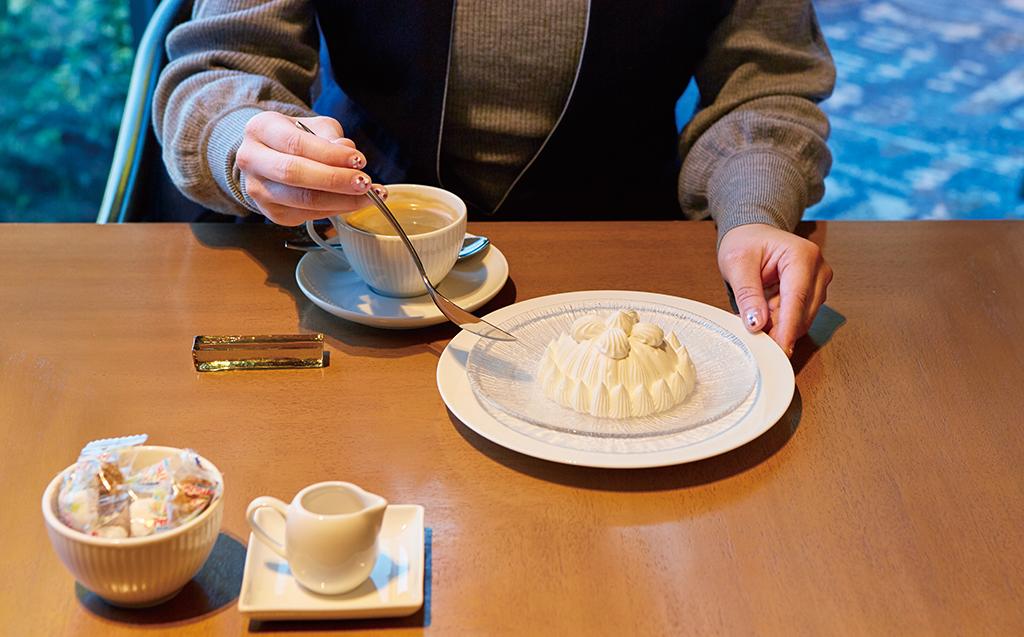 My next stop was the Ippodo Tea Tokyo Marunouchi store, just a stone's throw from Tokyo Kaikan. Headquartered in Kyoto with a history of some 300 years, Ippodo is a Japanese tea specialist, selling teas such as matcha, gyokuro, sencha and bancha. Some of the shop's lineup of teas are meant to be prepared with tea whisks or brewed in traditional Japanese teapots, while others are sold in packages of tea bags. The Tokyo Marunouchi shop is Ippodo Tea's only street-front store in Japan apart from the main Kyoto store, and is divided into three spaces: a Shop space, an Enjoy space and a Learn space.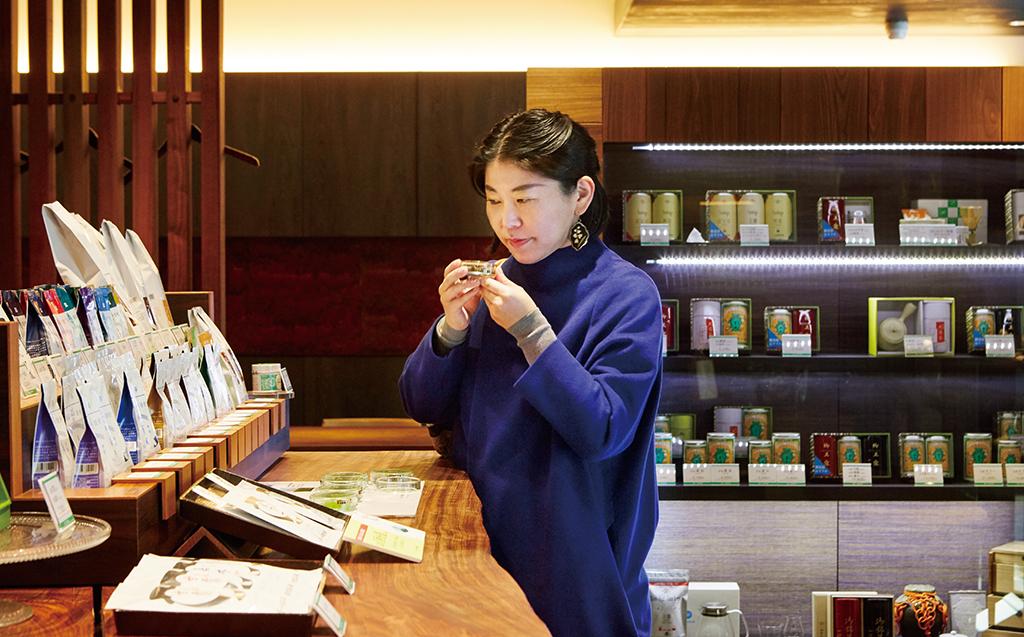 The Shop space is a sales area featuring a counter where you can sample teas and select the one you like best. You can ask the staff about the characteristics of each variety of tea and choose the one that suits you. The tea shop also offers a takeout service by the cup, making it easy to relax with soothing Japanese tea.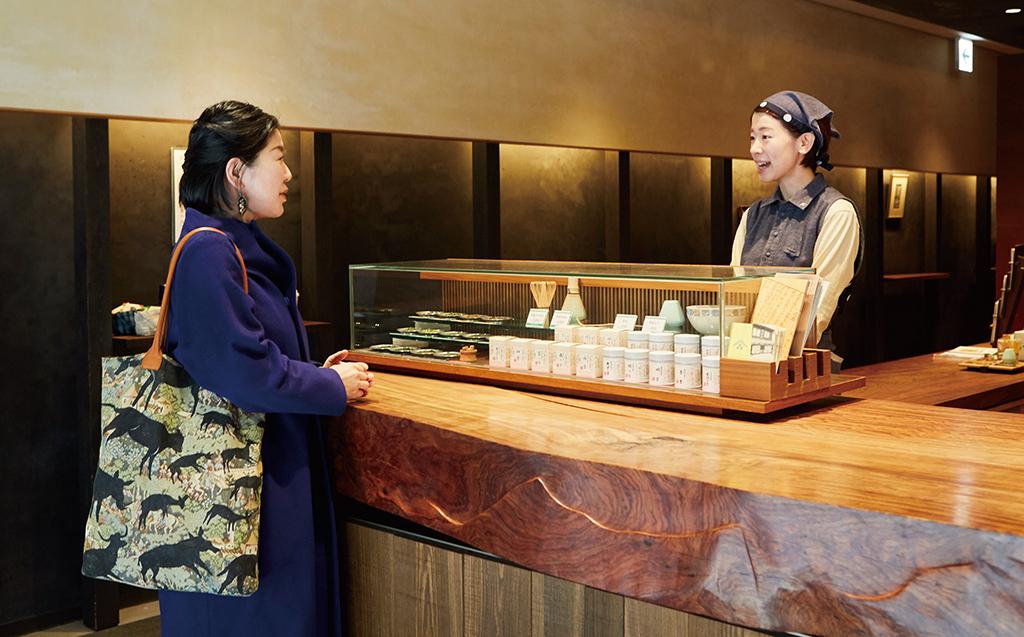 The Enjoy space is "Kaboku," a tearoom adjacent to the sales area. Among the menu's highlights are selections of teas you experience preparing yourself and a "full-course" selection of Japanese teas. I chose the "Gyokuro Tekiro" set of tea served in a teapot and sweets. The sweets, beautiful hand-made creations from a Japanese confectioner, vary from day to day. You can feel the atmosphere of the main Kyoto shop everywhere: the baskets available at each table for storing your belongings are custom items from Ichizawa Shinzaburo Hanpu, a Kyoto canvas-bag shop, and the uniforms worn by the shop staff were designed by Morikage Shirt Kyoto, a Kyoto shirt specialist.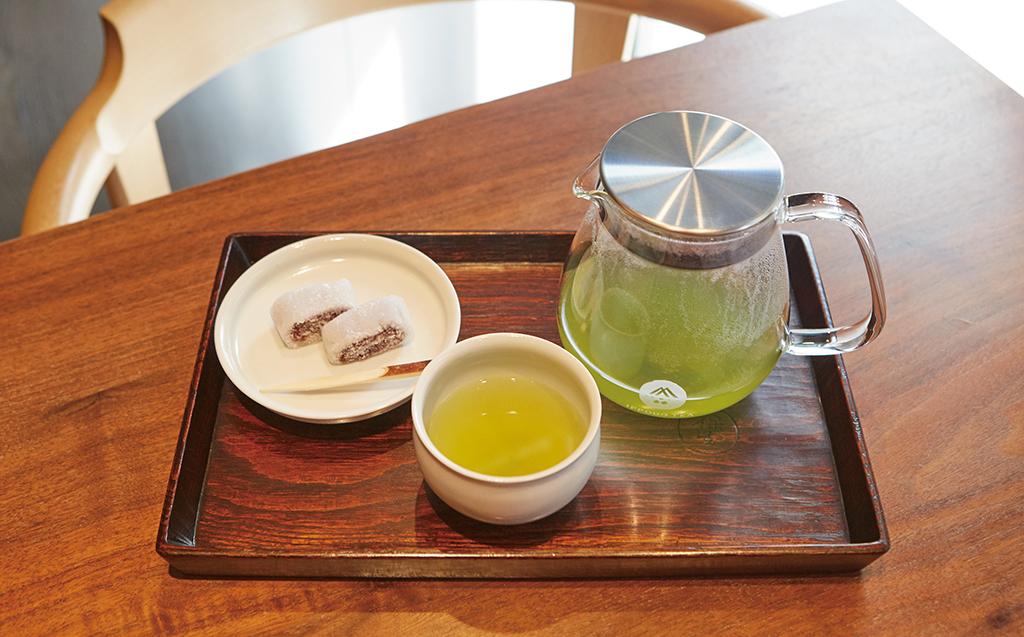 Lastly, at the Learn space, you can take part in regularly held classes on how to brew tea (reservations are required) or events in which you can learn more about Japanese tea—which, despite its familiarity, is often so little understood. The next time I visit, perhaps I'll do it not as a side trip but instead with a Japanese tea class as my primary objective.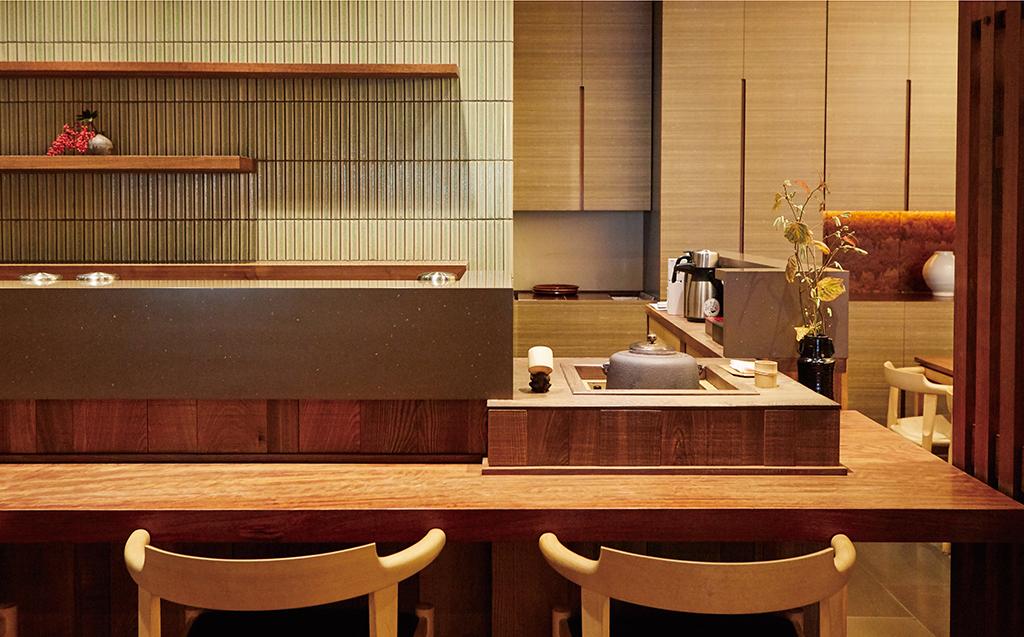 After this side trip, I visited Intermediatheque, a free museum on the second and third floors of the JP Tower KITTE building. This building preserves part of the former Tokyo Central Post Office while updating it through remodeling. Jointly operated by the Japan Post Co., Ltd. and the University Museum, the University of Tokyo (UMUT), Intermediatheque features permanent exhibits of academic specimens and research materials accrued since the founding of the University of Tokyo in 1877.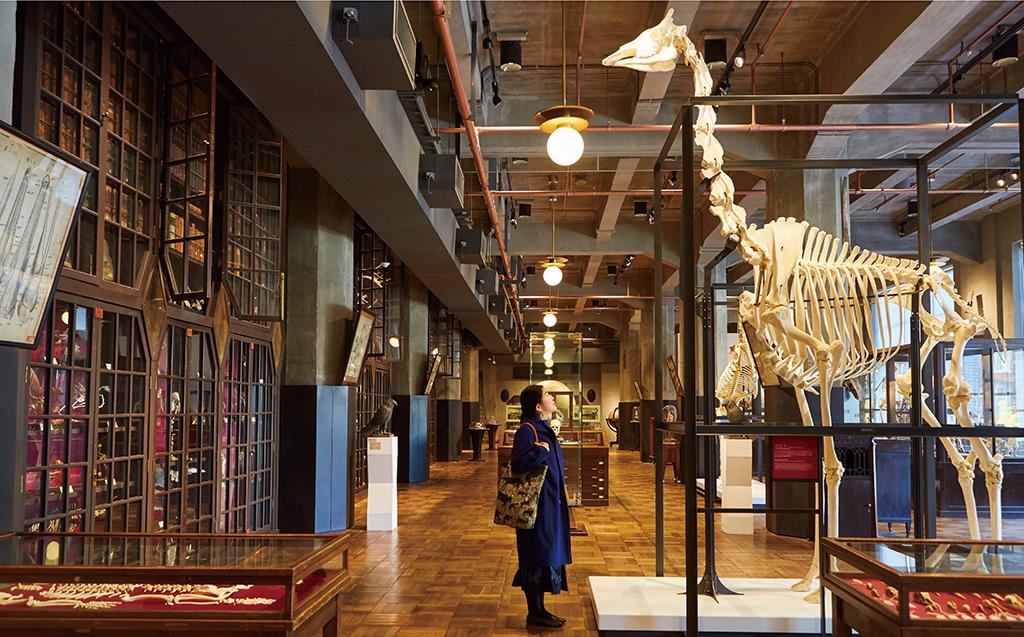 The floor of the exhibition room is the same wooden floor used when the building was the Tokyo Central Post Office, and some of the showcases and cabinets used for the exhibits are actual fixtures previously used for educational purposes at the University of Tokyo. Walking through the doors is like stepping back through time into a tranquil 19th-century museum.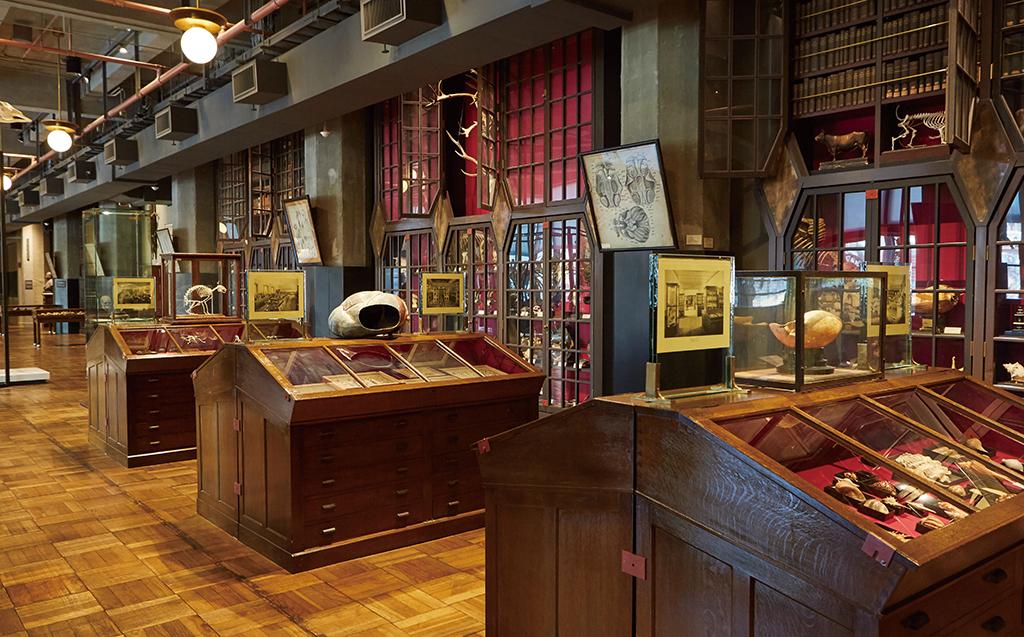 Specimens of skeletons of large land and sea animals. Taxidermy specimens. Minerals. Pre-modern Japanese literature. Mathematical models. Instruments. Old globes. Clocks. All kinds of exhibits, both great and small, are arranged irregularly throughout the exhibition space. No matter where you look, there is something to surprise you, to captivate you, to stimulate your curiosity. Visitors are invariably enthralled by the exhibits, and it's easy to forget that the museum is located right in front of bustling Tokyo Station.
 Photography is prohibited inside Intermediatheque, but is allowed in the "Academia" space. This zone is furnished with desks and chairs formerly used in a small hall of the University of Tokyo Faculty of Medicine, reproducing a University of Tokyo classroom circa the 1920s or 1930s. The portraits of former professors adorning the walls lend the space the ambiance of a fantasy novel.
 The shop on the third floor sells catalogues of special exhibitions, products that sprang from the latest research conducted at the University of Tokyo, and original merchandise. It is the perfect place to pick up a Tokyo souvenir that's a little out of the ordinary.
 Every place I visited in this post-Oedo Antique Market stroll was a special one, creating a sense of excitement like I'd travelled through time itself. I enjoyed the feeling of having travelled far afield without ever leaving Tokyo.
Text: Minori Kai 

Author. Born in Shizuoka Prefecture. Graduated from the Osaka University of Arts with a major in Literary Arts. Minori writes books and magazine articles, primarily about travel, walks, sweets, local breads, gifts, classic hotels and architecture, knick-knacks and sundries, and lifestyle. She excels at rediscovering the allure of foods, shops, scenery, and people, as well as unique local attractions. Minori also creates sightseeing pamphlets for local governments and gives lectures.  
http://www.loule.net/
Photographs: Yukari Isa
Cooperation:
Tokyo Kaikan
https://www.kaikan.co.jp/en
Ippodo Tea
http://www.ippodo-tea.co.jp/en/
JP Tower Museum INTERMEDIATHEQUE
http://www.intermediatheque.jp/en
Museography (c) UMUT works
N.B. The information on this site is correct as of August 2019. It is subject to change without notice, so please confirm the details before coming to the festival.
(This is a "Tokyo Tokyo Old meets New" Project.)