【Vol.26】Food stylist Nami Iijima discovers just how much goes into a single handmade hagoita at the Hagoita Fair
At Sensoji Temple, the 18th day of every month is a holy day (en'nichi), for worship of the Kanzeon Bosatsu. And December 18th, a date known as Osame no Kannon, is an extra-special event when the Toshi no Ichi takes place. Various stalls are set up on the temple grounds to sell New Year goods and lucky items in what is known as the Hagoita Fair.
The hagoita is an auspicious paddle-like charm that dates from the Edo period (17th-19th centuries). Because the shuttlecocks used to play hanetsuki (a traditional game similar to badminton) have an appearance similar to insect-eating dragonflies, hagoita have been considered lucky objects that "eat bad insects (disease)."
The shuttlecock also has a bean attached to it, symbolizing health, thanks to a pun on the word mame which can mean both "bean" and "healthy." The custom of offering a hagoita as a gift to households on the birth of a daughter became popular after the war, which is probably what led to the hagoita gaining such importance in the yearly Toshi no Ichi. Numerous shops and stalls now sell hagoita during the three days from December 17th to 19th.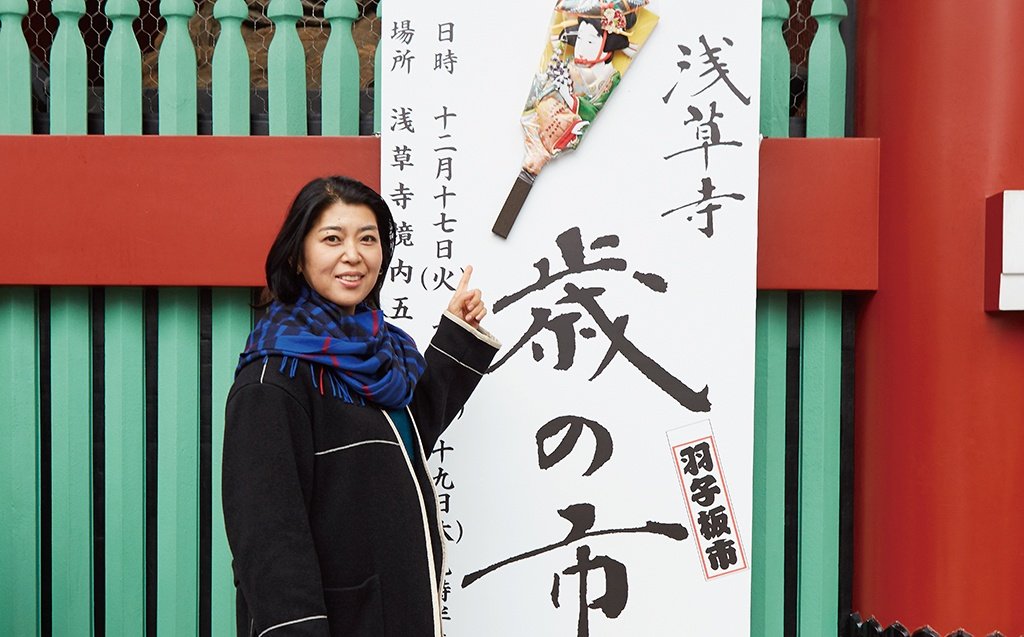 During the golden age of kabuki in the Edo period, endless rows of hagoita featured portraits of popular kabuki actors, and large crowds gathered, vying to buy hagoita featuring particularly beloved actors. In those days, hagoita sales were a measure of the various actors' popularity each year. Women hurried home, lovingly cradling hagoita featuring kyogen actors from traditional comic dramas. 
In the past, Asakusa was home to small playhouses known as Edo-sanza that featured kabuki plays, and artisans created faces and applique pictures while watching and studying the kabuki there. Today, in addition to pictures capturing the atmosphere of the Edo (Tokyo) of old, hagoita also bear socially satirical content and depict popular celebrities.
Nami wanders through the stalls looking at all the different hagoita pictures, lost in a world of dazzling colors and designs: 
"Wow, the faces and kimono in the portraits are so different from shop to shop, aren't they?" 
"The shiny one with a Dojo-ji woman's face is nice, but this Sukeroku one [both from famous kabuki plays] is really cool too, don't you think? I think I like hagoita with men's faces the most," 
"Hey, that hagoita over there, that's Michael Leitch from the Japanese national rugby team!"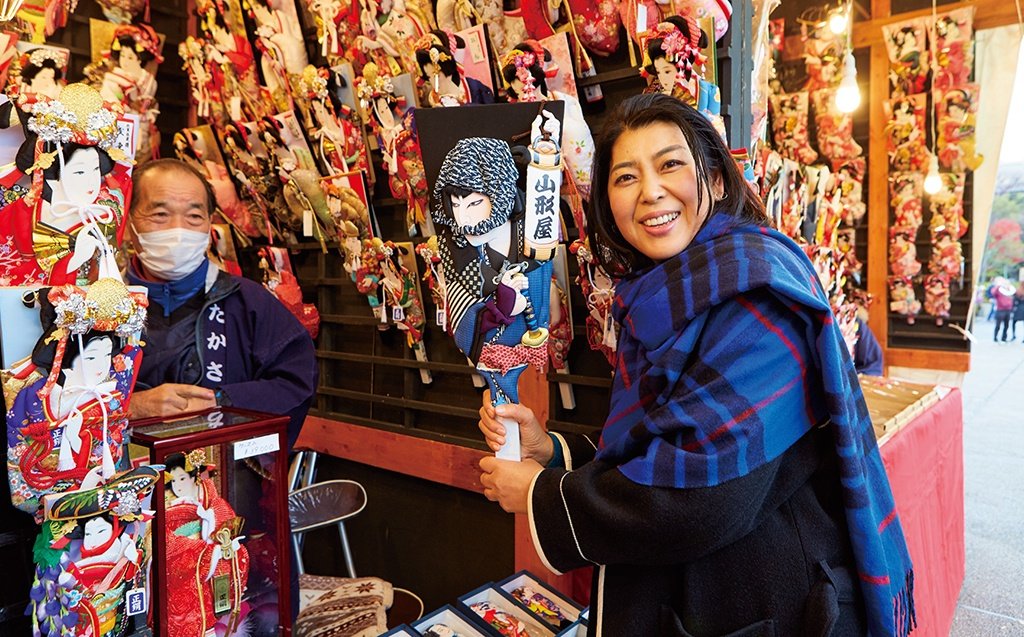 Nami asks an artisan, "How tall is the biggest one over there?"
"That one with the kabuki lion dance (renjishi) on it is one meter 70 centimeters. It took three or four months to finish."
"So you made it?"
"That's right. When you're making a hagoita, the face and the applique-like cloth picture involve two separate processes. For the face, whitewash pigment (gofun) is painted on first, and then each face is drawn individually by hand. The kimono requires an applique, and for that I keep a stock of old kimono, and I put cotton inside it to make it stand out as three-dimensional."
"Wow, that sounds like a lot of work!"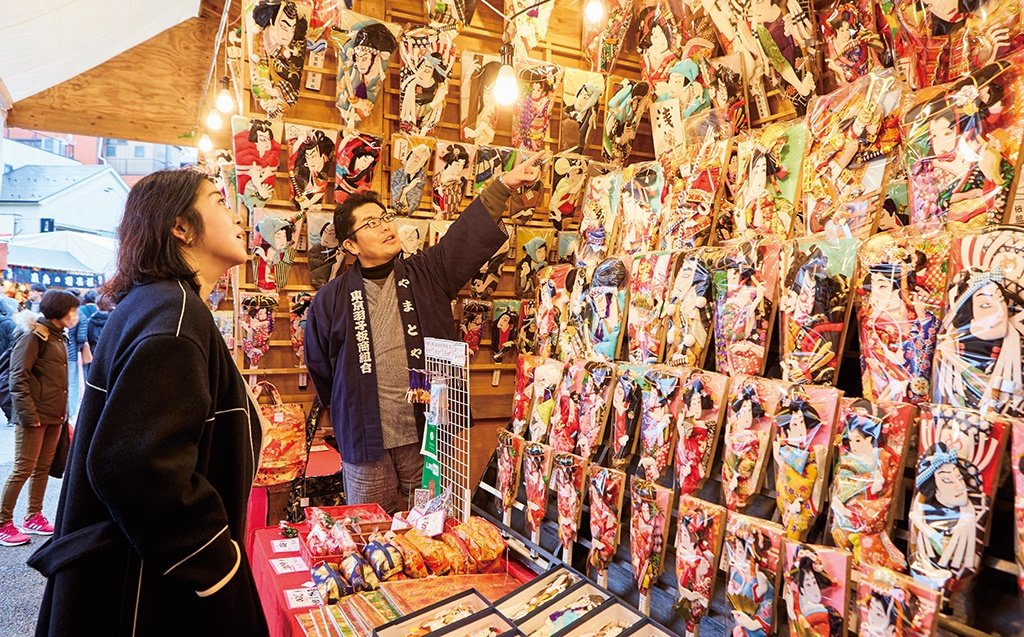 It's also nice to be able to learn about traditional crafts as you shop because the hagoita vendors at the fair are the artisans who made them. The Edo hagoita is considered a traditional craft, certified by the governor of Tokyo upon meeting the strict standards set by the Tokyo metropolis, courtesy of the Tokyo Hina Doll Producers' Cooperative Association. 
Says Nami, "I've had almost no opportunities at all to learn about this kind of traditional craft in my regular daily life, so it's great to be able to experience Japanese manners, customs and culture here." 
There are also fun activities at the Hagoita Fair like oekaki hagoita where you can draw any pattern you like on a paulownia wood paddle and take it home with you. Nami picked up a crayon and drew a plump rice cake. She said she'd be spending her new year holidays in France, so purchased three hagoita paddles here at 1,000 yen apiece to use for playing hanetsuki. "I'll play doubles with these in France!" she says happily.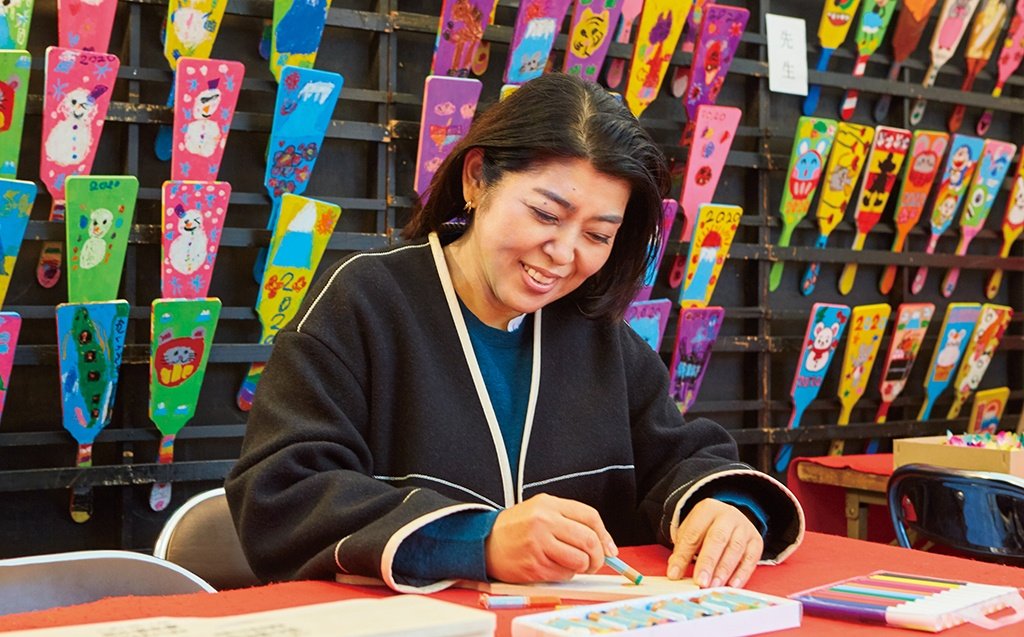 The street stalls are lit up after sunset, creating an entirely different atmosphere from the afternoon. When the Hagoita Fair ends, the year is already over. It's nice to take a break from the mundane jobs and household chores of ordinary life to go out and have fun with this end-of-year custom.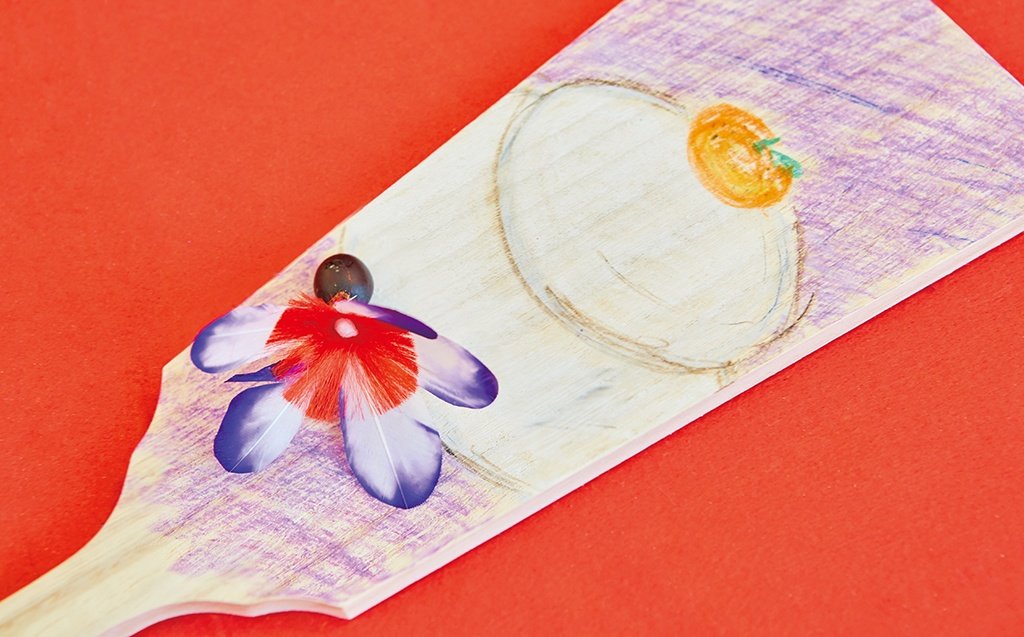 Navigator: Nami Iijima

A food stylist born in Tokyo. She works with food in a variety of fields such as film, television dramas and commercials. She has managed well-known projects such as for the films "Kamome Diner" (Kamome Shokudo) and "Umimachi Diary," as well as for the television dramas "Midnight Diner" (Shinya Shokudo) and Gochiso-san. She was also involved in "The Truth" (La Vérité), the latest film from director Hirokazu Kore'eda, featuring the internationally famous actresses Catherine Deneuve and Juliette Binoche.
Text: Noriko Ichida
Photographs: Yukari Isa
Photography location courtesy of: the Hagoita Fair
https://www.asakusa-toshinoichi.com/hagoita-ichi
N.B. The information on this site is correct as of August 2019. It is subject to change without notice, so please confirm the details before coming to the festival.
(This is a "Tokyo Tokyo Old meets New" Project.)