【Vol.27】Food stylist Nami Iijima takes a tour of Asakusa's old and new.Delights following the Hagoita Fair ranging from traditional coffee shops to wine bars.
After touring the Hagoita Fair at Sensoji Temple, Nami visits a small factory close to Kaminari-mon Gate. At Kigusada Shoten, established during the Tenpo period (around 1830), the staff members are working hard manufacturing, and then selling, wooden items such as oribako (traditional wooden food containers) and o-fuda talismans. Says Nami, "I actually made a special order for these boxes, because an actor ordered from me 100 bento lunch boxes. I made the lunch inside each bento box slightly different for women and men, and they were delivered wrapped in paper reading "Women's Bento" and "Men's Bento."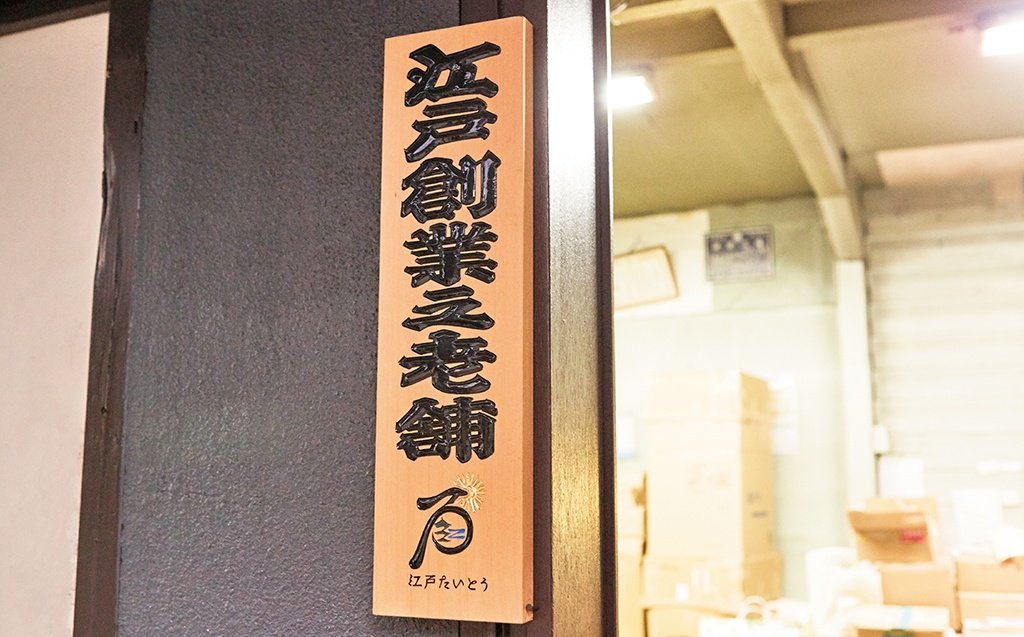 A woodwork artisan named Sadakichi (the first-generation shop owner) initially established Kigusada as a factory and store in the Nihonbashi district, which was home to a fish market in those days. In 1869, it moved to Namiki-dori Street in front of Asakusa's Kaminari-mon Gate. Kigusada manufactures oribako, boxes made of thin wood, purchased by traditional eel restaurants, tempura restaurants and soba restaurants in the Asakusa neighborhood for serving meals in.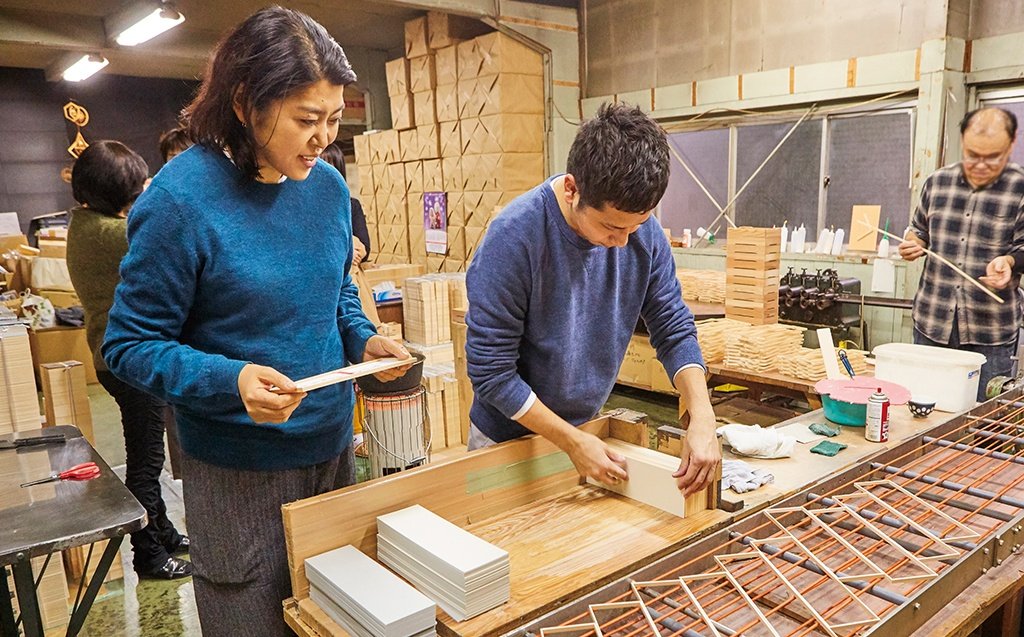 The materials now used for oribako include cedar, cypress, yeddo spruce, and paulownia. The cedar and cypress are from Hinohara-mura Village in Tokyo. The sixth-generation owner of Kigusada, Kiyoko Shida, says that "Cutting down these trees for wood may help in reducing hay fever symptoms in the Tokyo area, so there has been considerable demand for these materials over the last five years or so." Wood leaves behind very little residual ash when burned and is a non-hazardous material. As food containers, wooden oribako are strong, breathable, antibacterial, and even maintain an appropriate moisture level for foodstuffs. Nami says, "Plastic waste has become a big problem recently, so it's good that these products are environmentally friendly. The wood can be used not only for bento boxes but also as paper-thin sheets in catering. Hors d'oeuvres, etc., look beautiful laid out in this way." By using trees that have been grown since long ago, and adapting how they are used to the needs of modern life, we can maintain a connection with the forests in our everyday lives.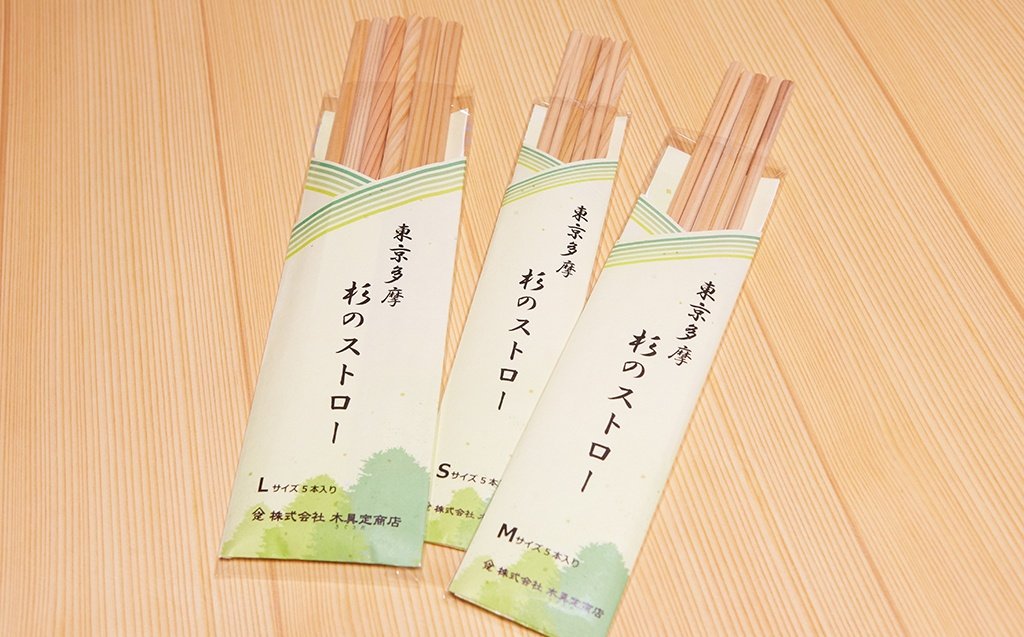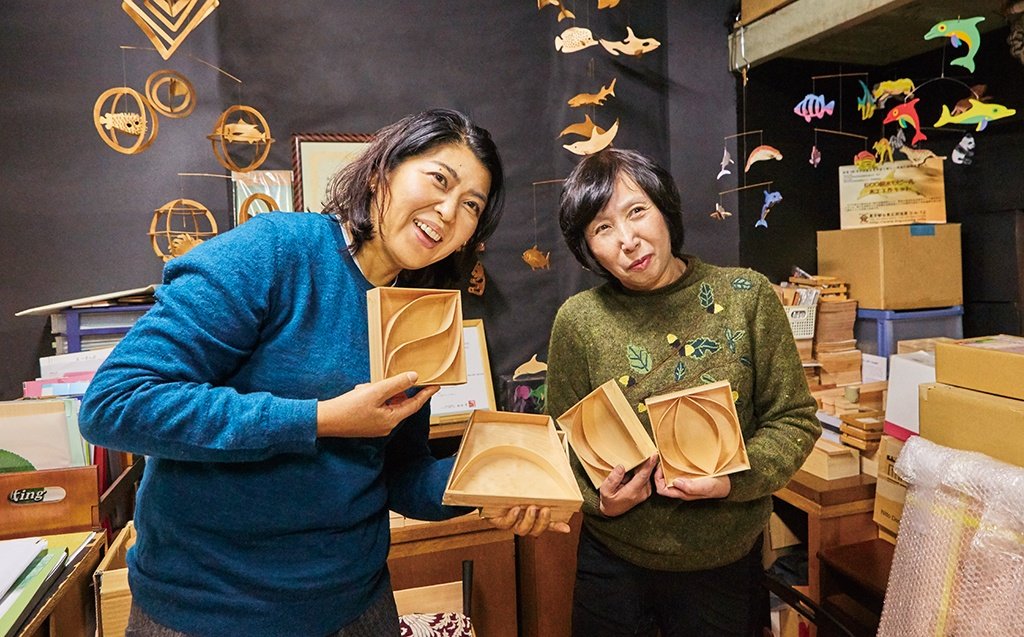 Our next stop is a coffee shop called Ginza Brazil Asakusa. Nami notes with interest that the shop's name contains the names of three locations: Ginza, Brazil and Asakusa. "Isn't that strange?" she asks. Originally opening in Ginza in 1948, it was so named as it imported its coffee beans from Brazil. Nami has a look at the food menu and orders the "Original Fried Chicken Basket." Taking a bite, she appreciates its light, crispy texture, and how tender it is. Says chef, Junichi Kaji, "The meat is as tender as it is because we cut the breast meat at an angle, against the direction of the muscle." Plus, the thick-cut roast ham goes perfectly with soft-boiled eggs and the restaurant's own original mayonnaise. To achieve the cabbage's remarkably soft texture, each leaf is pulled off the head individually before being thinly sliced. Nami says, "So much work goes into this, that it really makes you want to try the entire menu, doesn't it?" As we leave the restaurant, we enthusiastically promise we'll be back soon.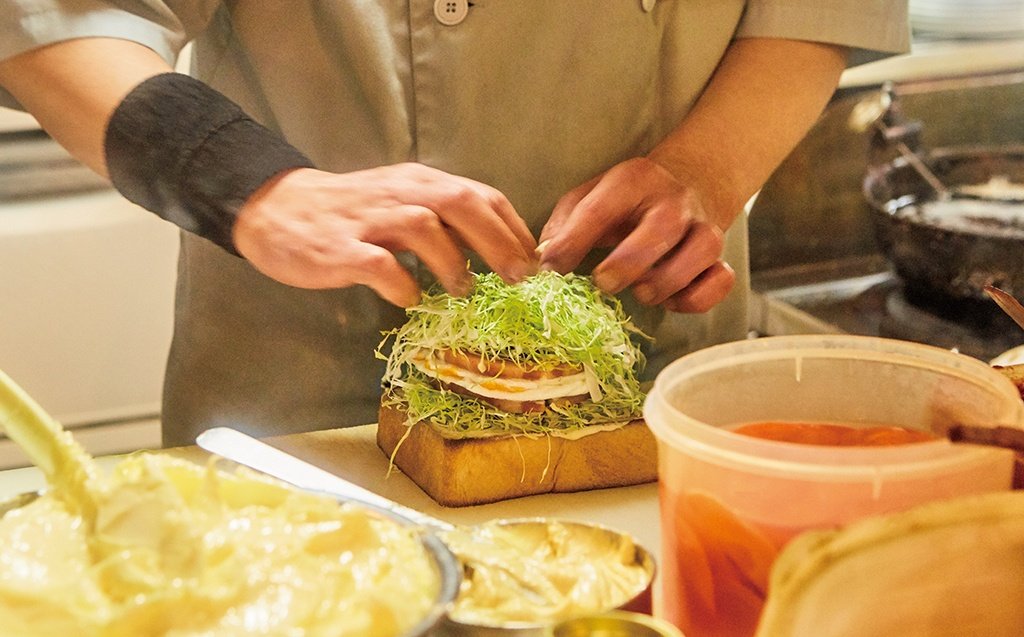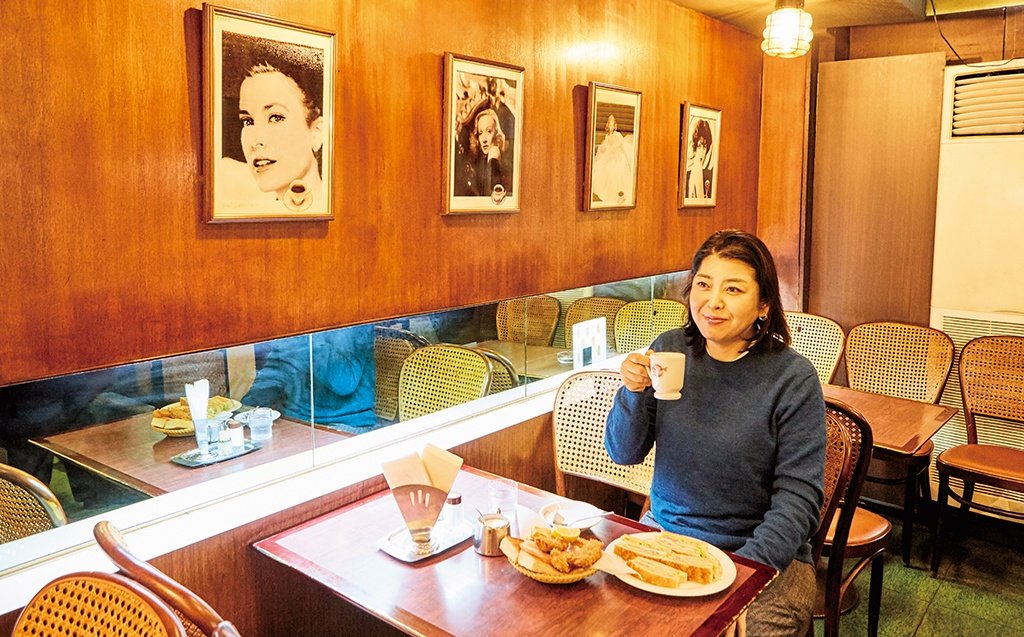 The last place we visit is the Pétanque wine bar with eight counter seats. Takeshi Yamada runs this restaurant by himself. He opened it in 2017 after an impressive history of working at Nishi-Azabu's "The Georgian Club," of serving as an Ambassador's Chef at the Embassy of Japan in Hungary, and working at Ze Kitchen Galerie in Paris, among others. The oeuf mayonnaise features soft-boiled eggs covered in a thick layer of anchovy mayonnaise; the tulip kara-age fried chicken uses a light batter with spices like cumin and coriander; and the nibo-butter pasta uses butter with dried sardines, to name a few dishes. Although based in French cuisine, this restaurant is similar to a Japanese izakaya pub or even an Asian street food stall. All of these impressive, fusion-style dishes go perfectly with wine. Says Nami, "People tend to associate Asakusa with famous traditional shops like eel or tempura restaurants, but a bistro like this makes you want to drink a bit before heading home. The portions may be small, but with starters, entrees and pasta, as well as salad and steak, being able to create your own perfect meal is great."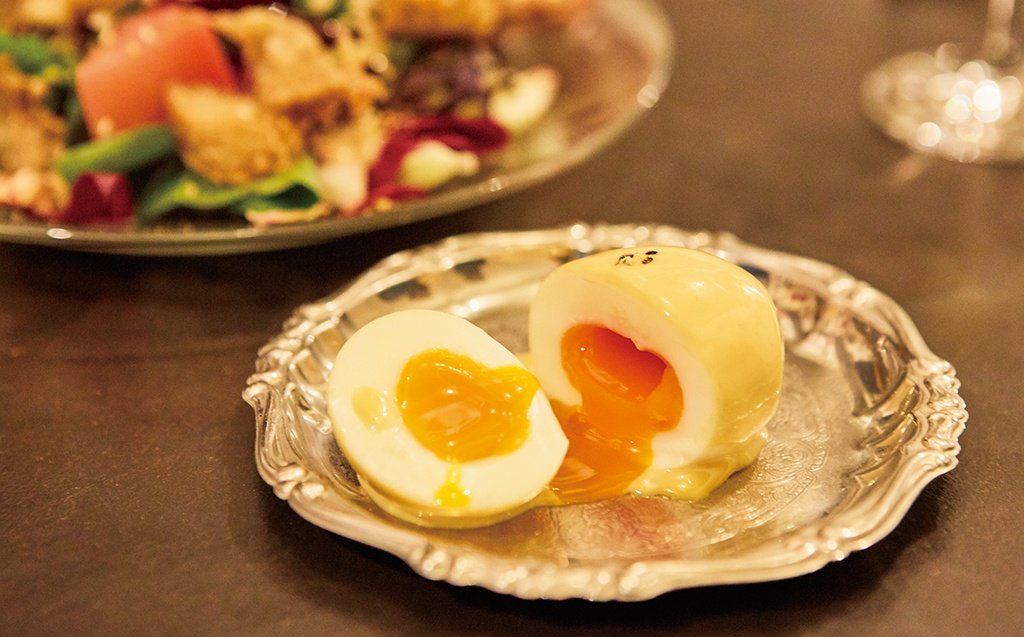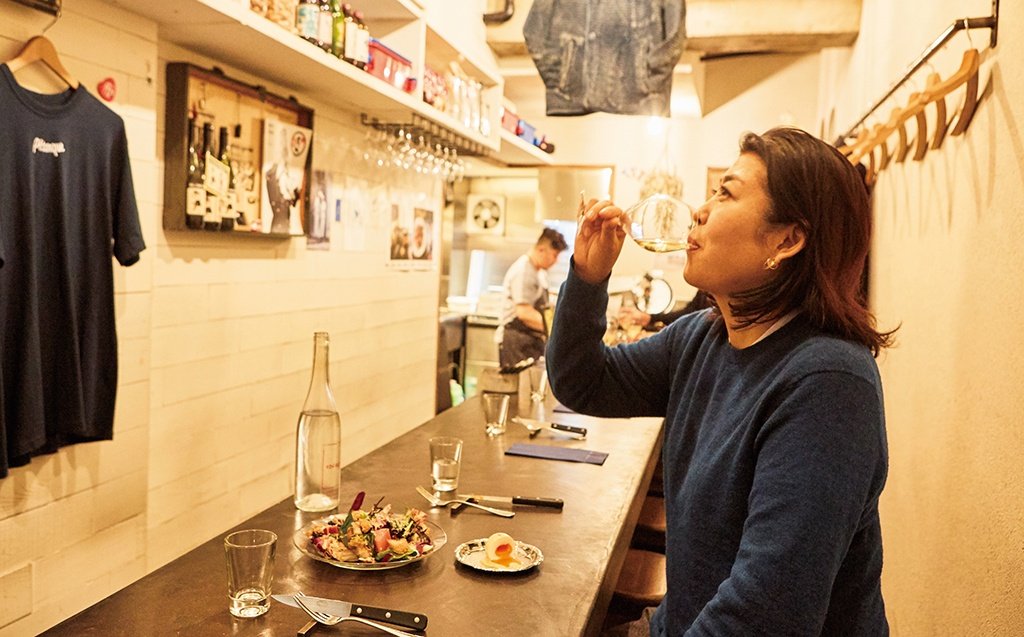 By the time we leave the shop, Sensoji Temple is now beautifully illuminated. "When I show overseas friends around, we often come to Asakusa, but it's always only during the day. This is the first time I've been here until late. From traditional crafts to new shops, this time, I've found a whole lot more ways to enjoy Asakusa."
Navigator: Nami Iijima

A food stylist born in Tokyo. She works with food in a variety of fields such as film, television dramas and commercials. She has managed well-known projects such as for the films "Kamome Diner" (Kamome Shokudo) and "Umimachi Diary," as well as for the television dramas "Midnight Diner" (Shinya Shokudo) and Gochiso-san. She was also involved in "The Truth" (La Vérité), the latest film from director Hirokazu Kore'eda, featuring the internationally famous actresses Catherine Deneuve and Juliette Binoche.
Text: Noriko Ichida
Photographs: Yukari Isa
Photography location courtesy of:
Kigusada Shoten
http://www.kigusada.info
Ginza Brazil Asakusa
Pétanque
https://ja-jp.facebook.com/petanqueasakusa
N.B. The information on this site is correct as of August 2019. It is subject to change without notice, so please confirm the details before coming to the festival.
(This is a "Tokyo Tokyo Old meets New" Project.)